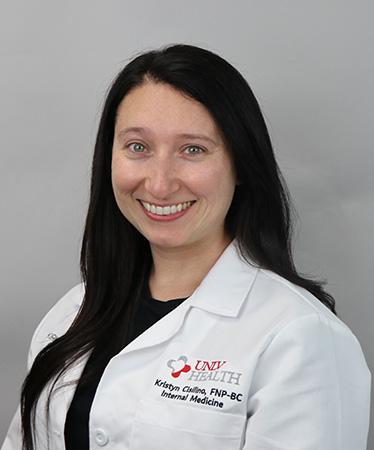 Kristyn Cisilino, MSN, APRN, FNP-BC
Internal Medicine
Kristyn Cisilino is a board-certified family nurse practitioner who specializes in primary care. Kristyn's academic journey began with an Associate's Degree in Nursing from College of Southern Nevada, which laid the foundation for her career in healthcare. Eager to expand her knowledge and skills, she pursued a Bachelor's Degree in Nursing from Grand Canyon University, deepening her understanding of patient care and healthcare management. Recognizing her calling to advance her career and make a greater impact on her patients' lives, Kristyn further pursued a Master's Degree as a Family Nurse Practitioner from University of Nevada, Las Vegas. Equipped with an extensive knowledge base and specialized training, she seamlessly transitioned into the role of Family Nurse Practitioner, providing comprehensive, patient-centered care to individuals in her community.
With nine years of experience in the medical field, Kristyn has honed her skills in various settings, including inpatient and outpatient environments. Her expertise spans across multiple specialities, ranging from medical surgical orthopedics to men's health, intermediate care, intensive care, and family practice/primary care. This diverse background has allowed her to approach patient care with a well-rounded perspective.
Passionate about health and wellness, Kristyn goes beyond the conventional approach to healthcare. She believes in providing comprehensive and personalized care, tailoring her treatments to meet the unique needs of each patient. Emphasizing preventive strategies, she seeks to improve overall health and well-being, ensuring her patients can enjoy a higher quality of life. As a healthcare professional, Kristyn continuously strives for excellence. Her dedication to her profession and her patients is evident in her approach to providing high-quality, compassionate care.