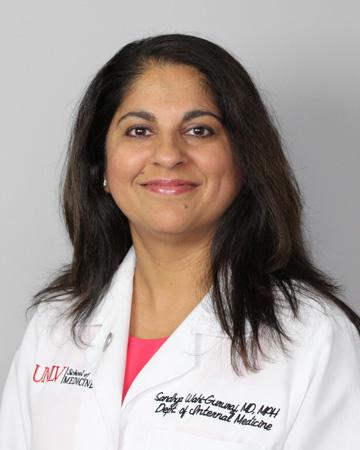 Sandhya Wahi-Gururaj, MD
Internal Medicine
Dr. Sandhya Wahi-Gururaj, an associate professor in the Kirk Kerkorian School of Medicine at UNLV Department of Internal Medicine, is a board-certified general internist and currently serves as the internal medicine residency program director.
A member of the American College of Physicians, Dr. Wahi-Gururaj has helped to shape curricula and training programs for local fellows and residents while maintaining a clinical presence that centers on establishing long-lasting, communicative relationships with her primary care patients.
A graduate of the Northwestern University Feinberg School of Medicine and the Boston University School of Public Health, she completed her internal medicine residency, chief residency, and general internal medicine fellowship at the Boston University Medical Center.
Dr. Wahi-Gururaj was previously an associate program director and associate internal medicine clerkship director at the VA for the Boston University School of Medicine.
She also co-developed a Physician Communication Pocket Guide, a guide for documentation in the medical record, that is available online.