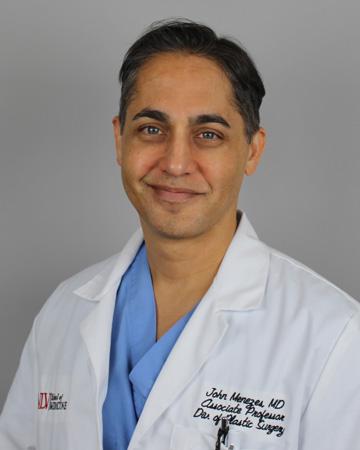 John M. Menezes, MD
Plastic Surgery, Cleft Lip & Palate Repair
Dr. John Menezes, an associate professor with the Kirk Kerkorian School of Medicine at UNLV, is the only fellowship-trained Johns Hopkins University School of Medicine craniofacial surgeon in Las Vegas.
Among his areas of expertise are cleft lip and palate repair, craniosynostosis, ear reconstruction, microsurgery, and adult and pediatric facial trauma.
"Every week, I operate on cleft lip and palate as the only cleft/craniofacial surgeon in town," he said. " This happens in one in a thousand births, so if there are 40,000 new babies born a year in Nevada, there are 40 infants who need cleft surgery each year. That's just for the primary reconstruction, and then there are secondary surgeries in early childhood and final reconstructions in the teenage years, so just the clefts alone keep me fairly busy."
His pediatric plastic surgery path has led him halfway around the world, repairing cleft palates as part of the Las Vegas Philippines Medical Mission. He plans to take UNLV medical students on similar missions.
In addition to cleft lip and palate repair, Dr. Menezes handles craniofacial cases at University Medical Center resulting from gunshot wounds as well as pediatric reconstruction patients.
"These are complex patients," he says. "They often need multi-disciplinary management…At UNLV, we want to set the standards for care and certainly maintain them in the community."